In this update we'll talk about what improvements that have been made in the areas of reliability and ease of use. The new privacy features are highlighted in a separate blogpost.
Candle, which runs on Linux, is now more resistant to damage from accidentally powering off your controller. The Raspberry Pi disk image has been split into two partitions, with the main system image being read-only by default. This means that it cannot be changed - and thus cannot easily be damaged either.
We've also gone through it with a fine comb, and have removed software and settings that weren't necessary. We've added software too. For example, you can easily plug in a camera module or an improved audio module, and they should work right out of the gate.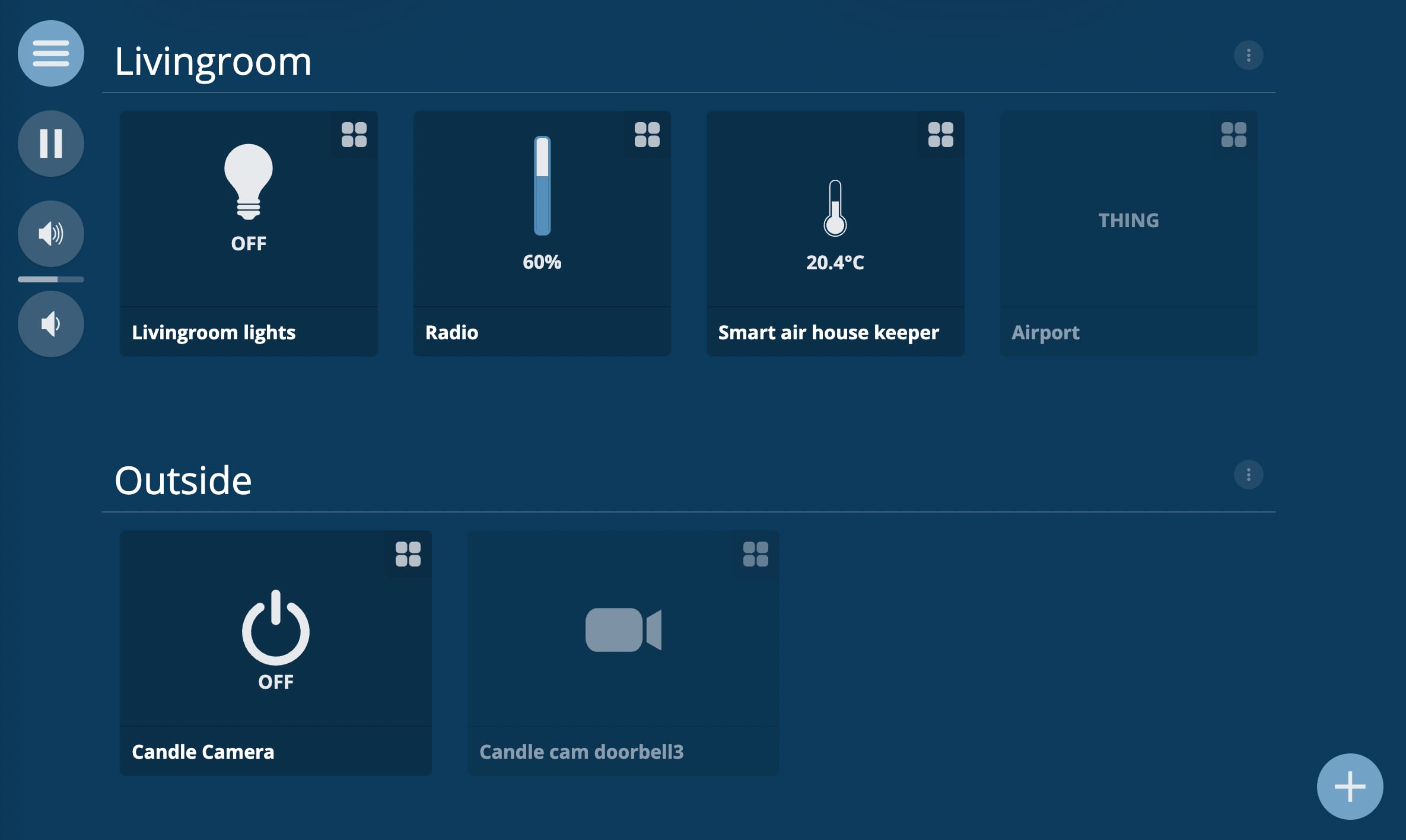 Group your things into categories
Candle builds on the Webthings Gateway project, and offers the latest 1.1 version. This is more compatible with the W3C Web of Things standard. It also has new features, such as creating groups for things (shown above).
Candle now hides a lot of Webthings Gateway's aspects if we feel they may be overwhelming to beginnners. Power users can enable "developer mode" by clicking on the gear icon on the settings page four times.
New apps
With Candle 2.0 we've created an app store.This allows people to make much better informed choices about how to expand their system with privacy friendly features. It also offers a range of new addons that are only available through Candle.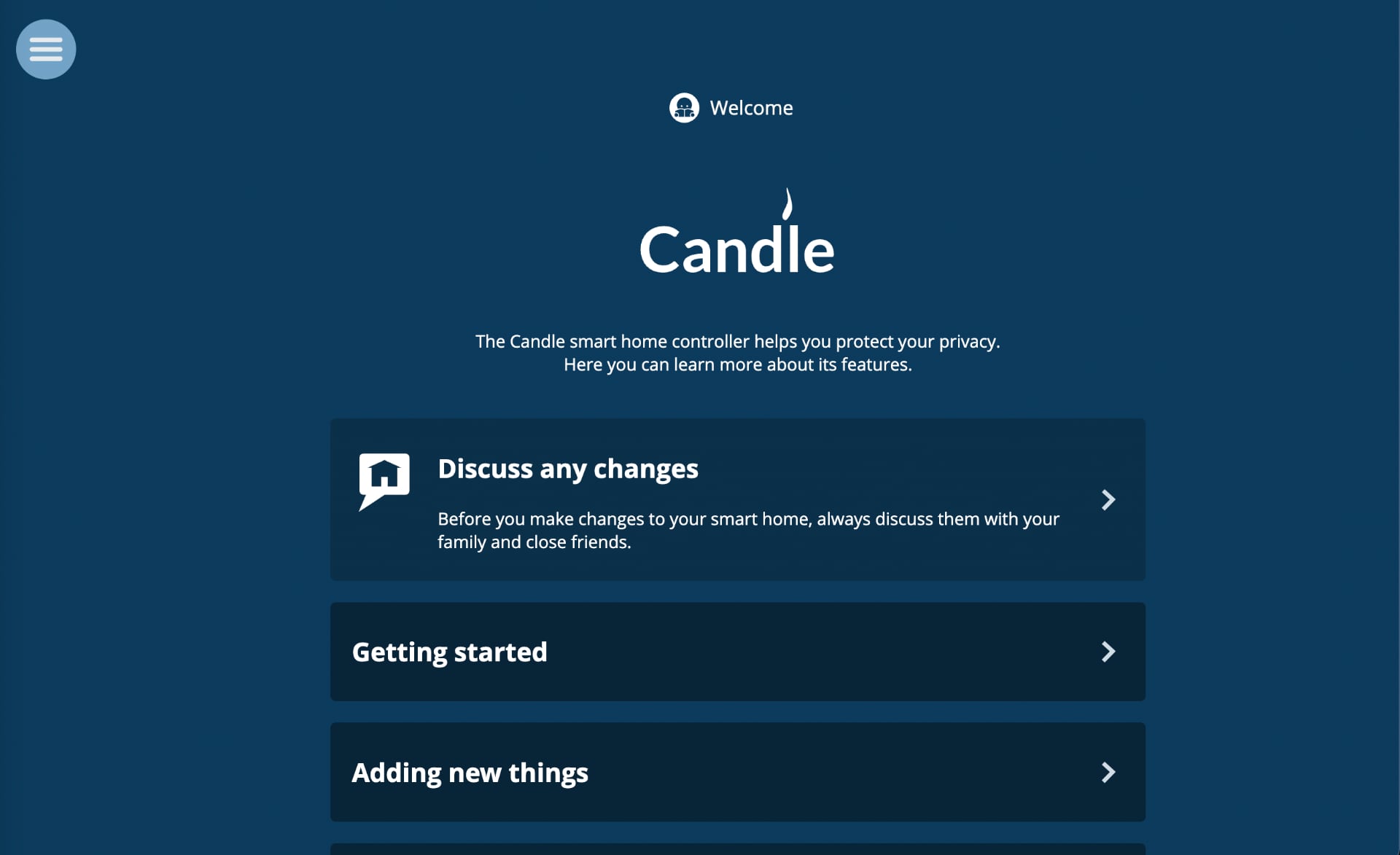 The first thing you see after logging in to your Candle controller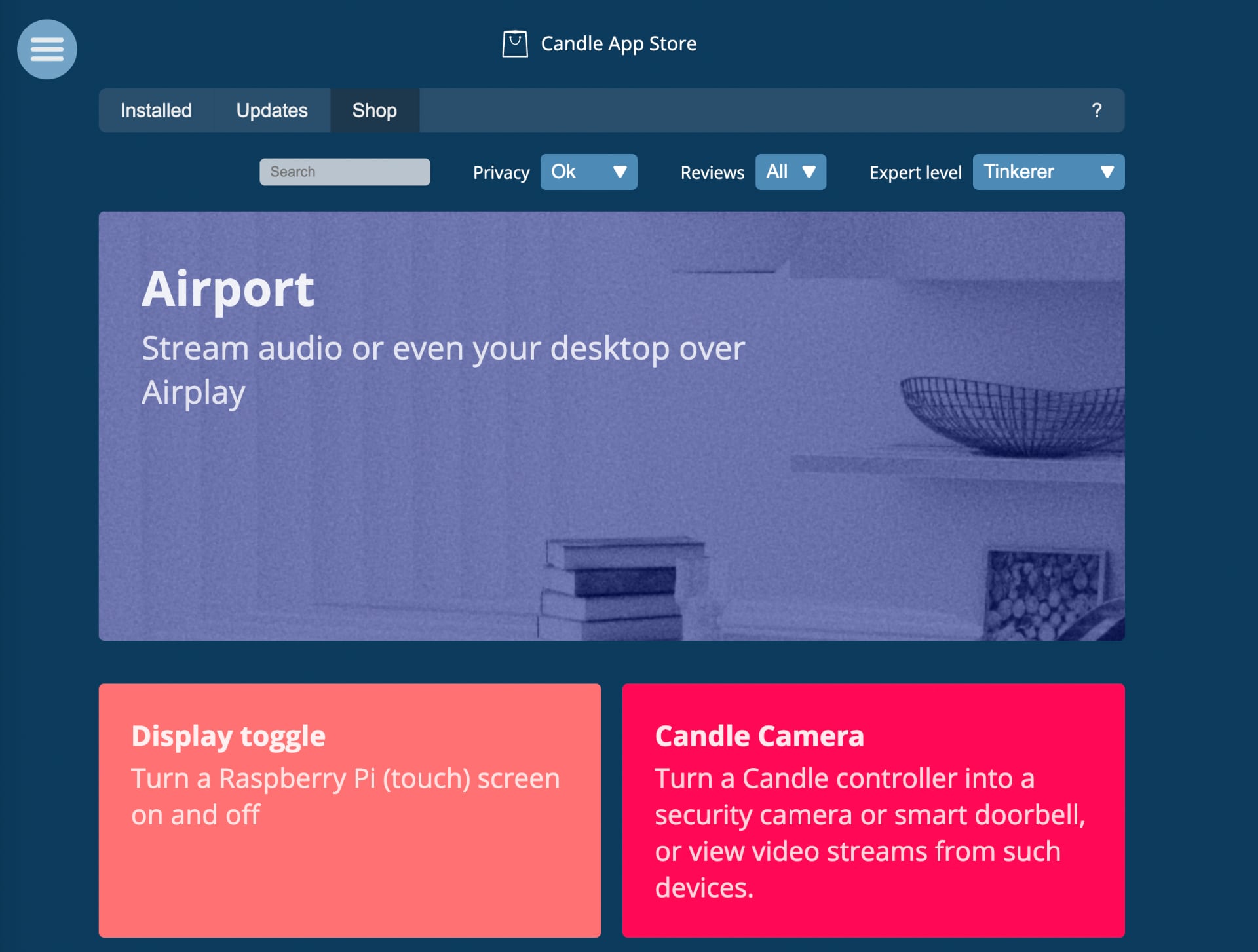 Install new addons from the Candle store
Monitor energy use
NEW Bluetooth. You can now pair Bluetooth devices such as keyboards and speakers. It will keep Bluetooth speakers connected even when you're not playing music. Not to mention that it can detect and warn about Bluetooth trackers.
NEW Candle Camera. This new addon can turn a controller into a security camera or even a smart doorbell with a physical privacy shutter. It can auto-detect all the Candle cameras on the local network too. You can watch streams from these cameras - and take snapshots - from a central controller. It supports automations too. You can, for example, automatically take a photo - and even print it - whenever someone presses the doorbell button. If you have enabled Voco's new chat feature then can also be sent a photo of who is in front of the door whenever its rung.

 NEW Energy Use. This addon takes the data from all your energy monitoring devices and turns it into a more easily digestible overview. It makes it easy to learn how much energy you're using each week, and thus makes it easier to try and lower your energy use.
 NEW Hotspot. This allows your Candle controller to emit its own little Wifi network. Think of it as a guest network for your wifi-enabled smart things. Once connected you can learn which servers those devices are trying to connect to, and even block those connections.
NEW Web Interface. This allows you to control your devices when outside the home. You can limit when this is possible, and which devices may be controlled.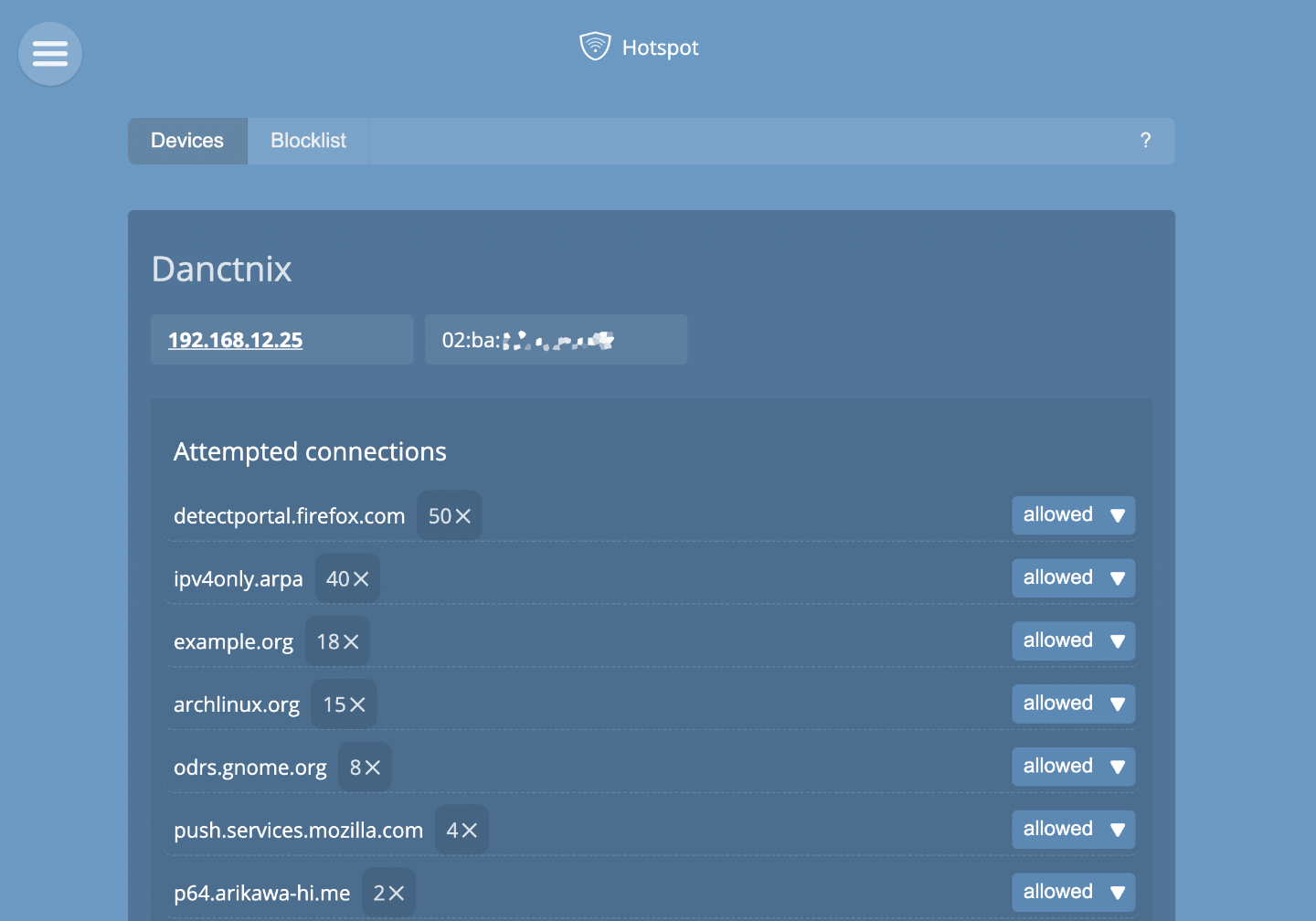 Tame your Wi-Fi devices with Hotspot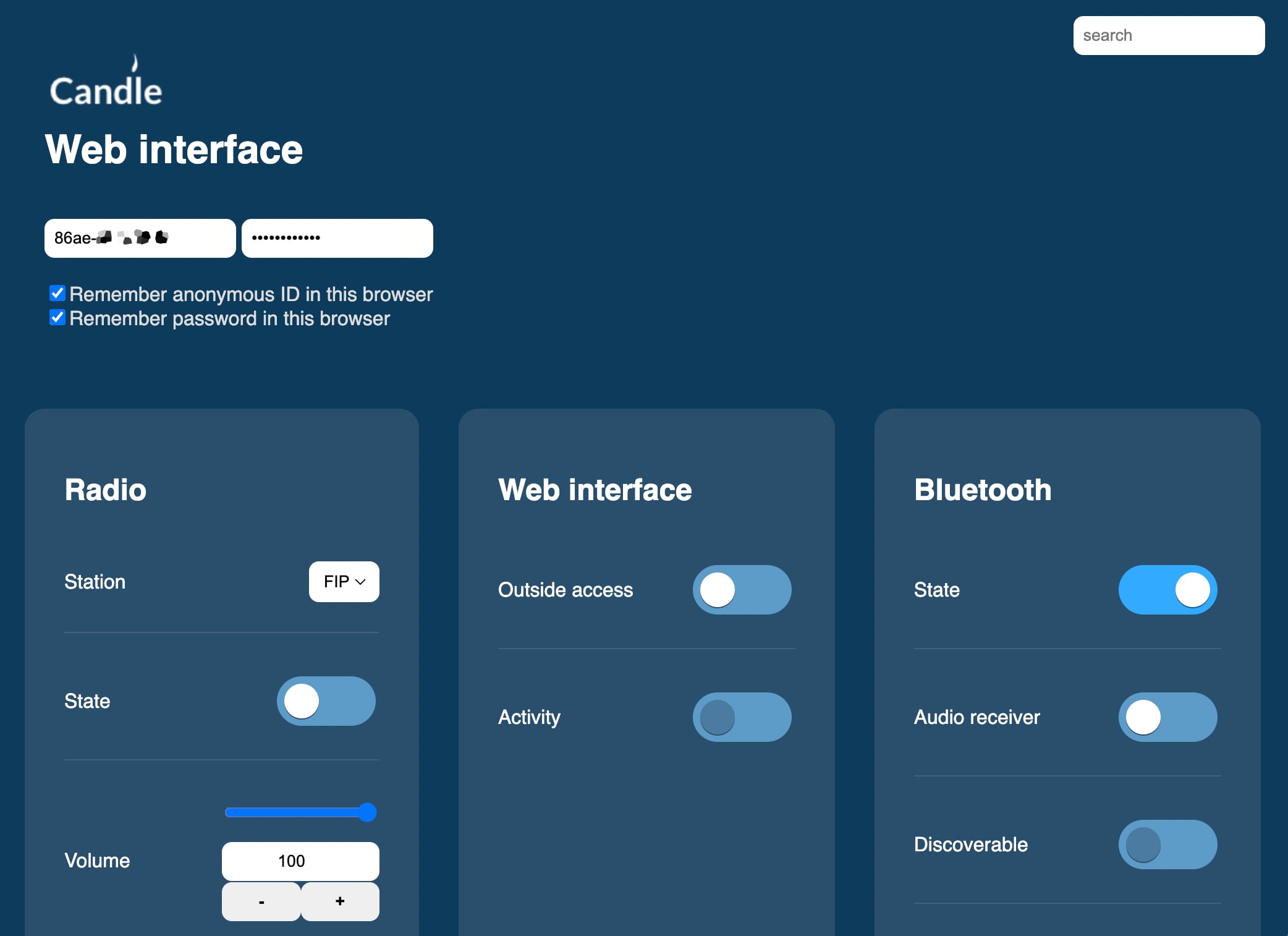 One way to control your devices from outside your home

Candle theme. This is an upgrade from the Square theme with tons of new features. It allows the internet to show when values are unknown. It also allows you to see all logs for a thing with one click or create collections of logs. There are now keyboard shortcuts, so you if you have a lot of things you can quickly find the one you're looking for. It now supports dark mode, but you could also set a prefered background color. It offers a zoom-in feature for people who have trouble seeing.
Display Toggle now lets you rotate the display 0, 90, 190 or 270 degrees. This has been optimised to work well with the Raspad 3.
Followers now allows you set set the frequency with which properties of your things are synchronised.
Internet Radio now has an easy to use interface to discover, manage and play your favourite online radio stations. 

Network presence detection has seen small improvements, and now works well with Webthings 1.1.
Photo frame now has nicer transitions. It also has the ability to print your photos to a connected Bluetooth photo printer.
Power settings now allows you to create backups (and restore them). It will only backup your settings though, not your collected personal data such as photos or logs. Secondly, through tight integration with the underlying disk image it's now possible to do a factory reset. You can let paired bluetooth and Zigbee devices remain paired after this reset, so it becomes easier to set up a system for other people.

Privacy Manager has gotten an upgrade too. Firstly, it now offers a feature to mass-delete all date from the logs over a specific period. For example, you could delete all data that was recorded over the last hour with the press of a button. Literally, because this feature can be part of automations too. Also cool: you can now connect a Bluetooth printer and print your data logs to paper.

Voco, the voice control addon, has lots of improvements, including in the area of security. The biggest new feature is that you can now chat with it using text messages too. For this it uses the Matrix network, a very privacy friendly alternative to Whatsapp and Signal. All this is of course optional.

Zigbee2MQTT adapter. This addon allows you to connect with Zigbee devices. Its biggest new feature is "Data blur", which makes it possible to limit how much data is collected. Specifically, you can set a time period over which only one average value will be stored.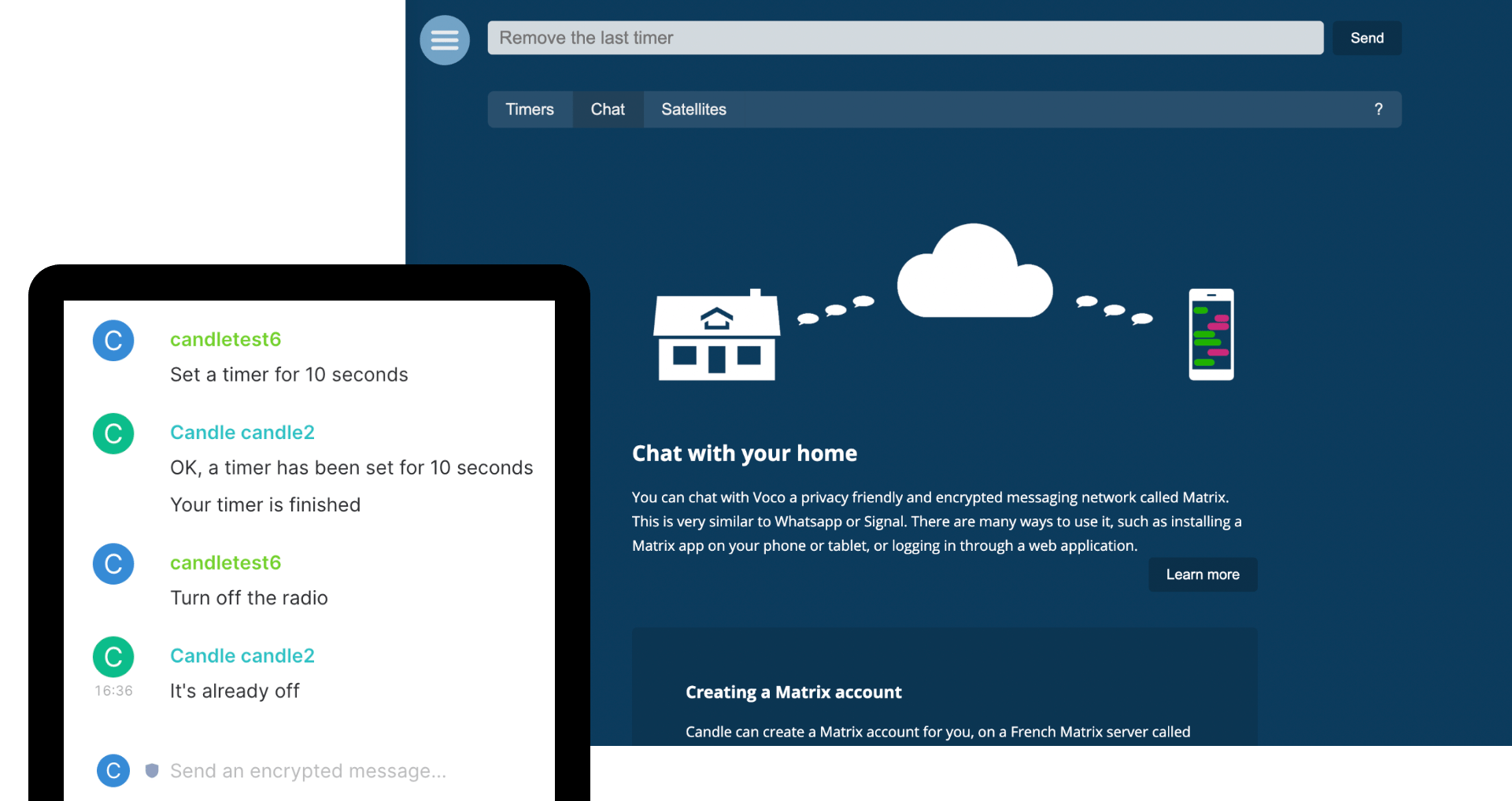 You can now chat with Candle, also when you're away from home.
Candle 2.0 has gained two new ways to control your devices from outside of your home. You can now chat with Voco through the Matrix messenger, or you can control devices through the Web Interface addon. However If you're an existing Candle or Webthings Gateway user, then you may have been using the "tunneling" feature, which allowed you to access the controller from outside your home.
For a number of reasons this feature has - for now at least - been disabled by default. Firstly, we didn't want to burden the Webthings community server with the traffic. But there's also the question of privacy, as this feature connected with Amazon servers.
Finally...
Candle is, at its heart, a research project. For people into technology it's already possible to better protect privacy. But can those options be made available to a wider audience? Can we make privacy easy?
For Candle 2.0 we dove deeper into what a commercial smart home system could look like if it made privacy the first priority, and ease of use the second. Do you have to be a tech genius to better protect your privacy in a smart home? Try Candle 2.0 and judge for yourself.
Made possible by
The work on Candle 2.0 was made possible through the SIDN Fund. Their support has helped create what is arguably the most cutting-edge privacy respecting smart home system in the world right now.

Share this article
These are privacy friendly sharing buttons; no code from these companies has been loaded into this page